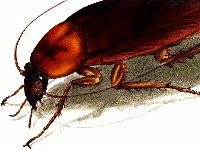 365 Pest Control - Cockroaches
Call us: 07789278085
It's quick, easy and safe !
Say good bye to Cockroaches forever
Cockroaches are a big, black and sometimes even brown insect with a glassy body that many people fear. They are between 10mm to 23 mm in length.
There are two kinds of cockroaches in United Kingdom :
One type is the American

cockroach

type that can swim, fly, climb flat surfaces and hide in many unsuspecting places.
The other specie is the German

cockroach

prefers a moist and warm environment.
The cockroach is a type of insect that has many species and is considered a pest by people.
The cockroach can be a big problem (pest) for humans as they reproduce quickly.
Cockroaches grow to maturity in 3-4 months and can live up to one year.
Pest control is a company who can solve all your problems with cockroaches. we are the best choice as we are an expert company working in this mater. We can eliminate the cockroaches from your life forever easily, quickly and safety.