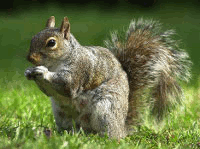 365 Pest Control - Squirrels
Call us: 07789278085
Are you tired of spending your hard earned money fixing the damages caused by
squirrels to your house, garden and maybe your crop?
Don't waste any more time or money trying unefficient solutions, here at 365 Pest Control we are confident that we can find a solution to solve your pest problems.
Our professionals team with much experience will come directly to your residence for a free inspection and will be able to give you a complete strategy to get rid of squirrels.
Allow us to stop squirrels invading your house, loft and garden.
We can guarantee effective and professional treatments.
The squirrel is often seen as a likeable animal, it however belongs to the rodents family, so it constantly needs gnawing to file its front teeth and once it has found a way, it can cause a lot of damages to insulation and timbers.
In the UK there are two kinds of squirrels: the Grey Squirrel and the Red Squirrel.
The former is bigger that the latter and can grow to till 600gm and is widespread in the UK, so it can be considered a pest.
Do not hesitate to contact 365 Pest Control if you have similar problems, we will offer a 100% guarantee and in addition provide complete discretion!